NEW: Now with subtitles*: Dutch, German, French, Italian, Spanish, Chinese, Japanese & Arabic. *Subtitles are generated by AI, so they are not perfect.

USE CODE 10OFF for 10% off - LIMITED AVAILABILITY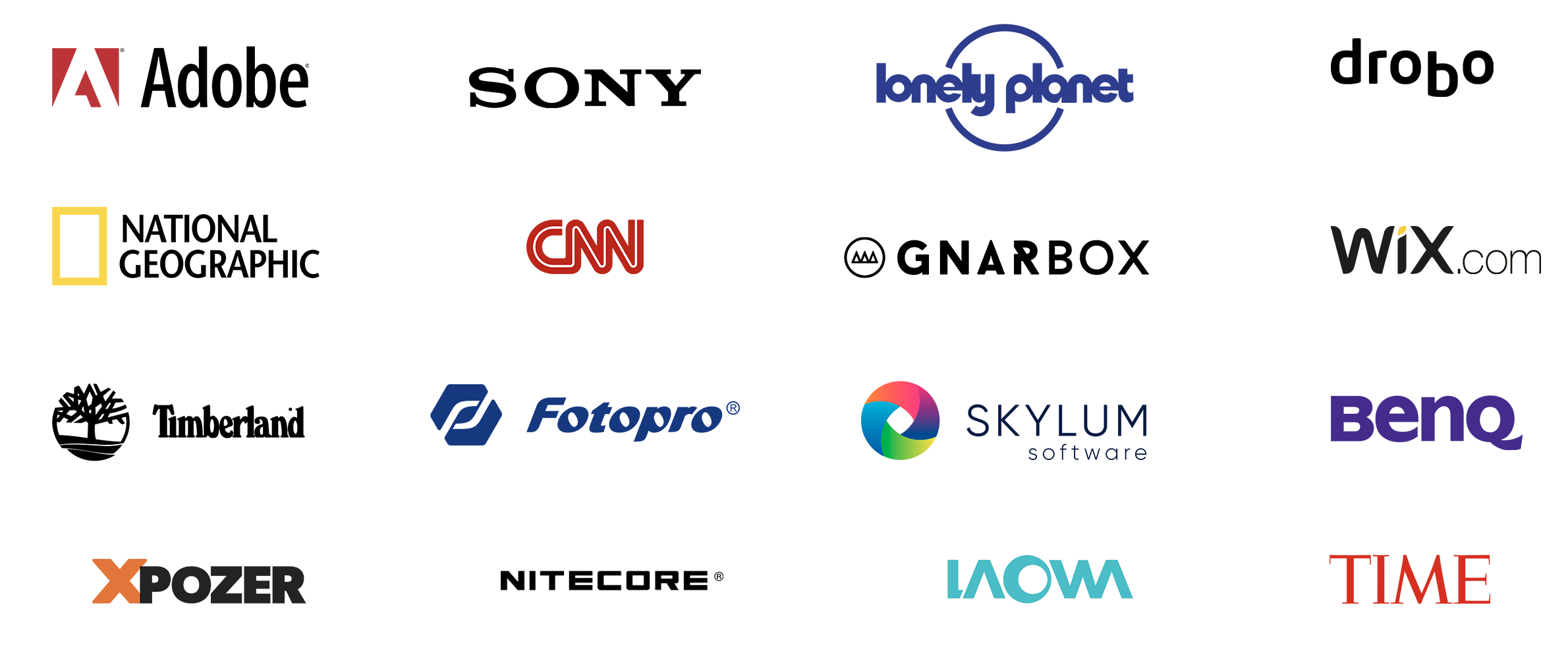 Brands
Albert works with a lot of big brands worldwide. He is an official ambassador for brands like Sony, Skylum, Fotopro, and more.
Next to that Albert has worked with brands like National Geographic, Adobe, CNN and you find Albert's forest images in Timberland stores worldwide.
Albert's work is also published on a worldwide scale both online and offline in various media. Whether knowing it or not, you've probably seen his images around somewhere.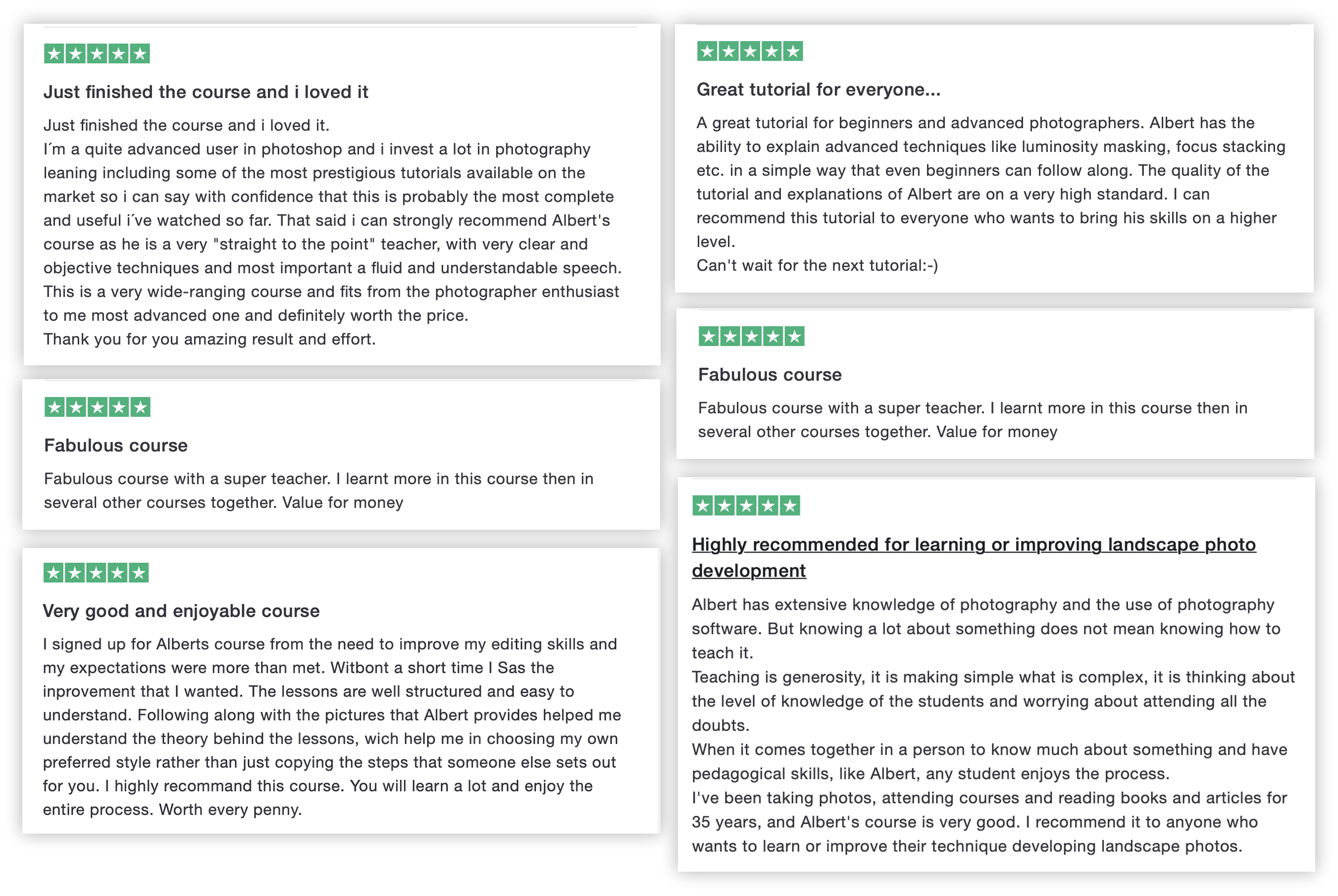 Great Reviews
This course has great reviews on the independent reviewing website TrustPilot.
Please CLICK HERE to check out the reviews yourself and see whhat others say about this course.
Not only does Albert have the ability to explain everything very well for both beginners and more advanced users, he is also very engaged with his audience, answering every question in the course itself, and actively giving feedback on other's work.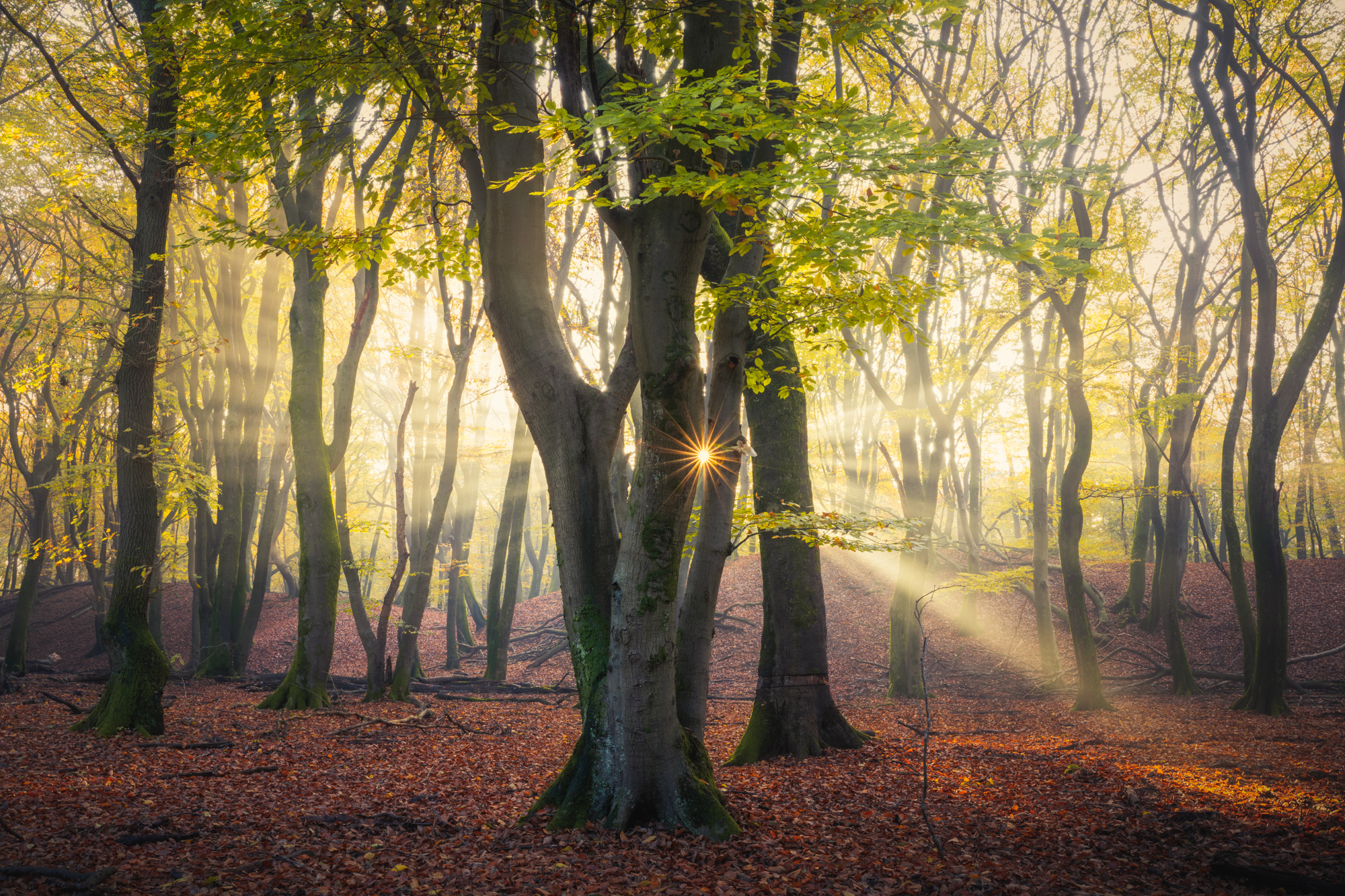 This Course is for YOU if :
You want to learn all Albert's editing skills.
You're either a beginner or already advanced and want to take your processing skills to the next level.
You want to capture that perfect moment through various techniques both in the field and on the computer.
You want to become a better photographer in general.
You want to create that wow-effect to your audience.
As a professional landscape photographer for over 10 years I always get questions how I create that 'special look' in my images. While photography is about capturing that perfect moment and being at the right place at the right time, finalising the image in postprocessing is an important asset in a landscape photographer's skillset.
With my background in design I have developed my own workflow, both in the field and regarding postprocessing techniques. To me, a photograph serves as a memory. When someone tells: "Albert, when I see your images it's like I was there in person." I succeeded. I aim to put the emotion and feeling into a photo. For myself, a photograph serves as a memory and when I look at my own photos, I want to remember that moment and be transferred back.
That's what photography is about. This course is about getting that feeling across through postprocessing techniques. Photography is all about photographing the best light and composition, and in the end, adding that extra touch of personality and magic through post processing.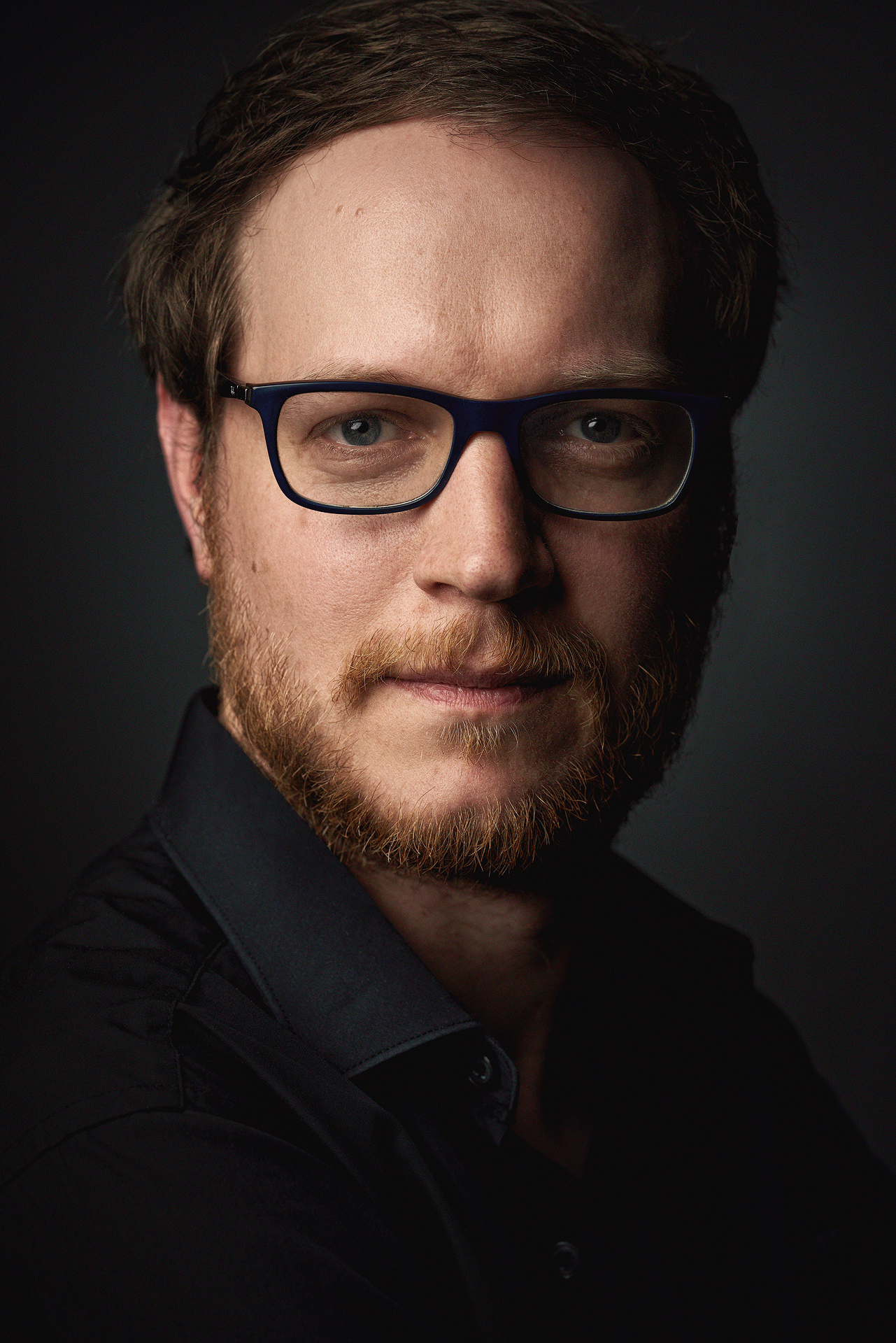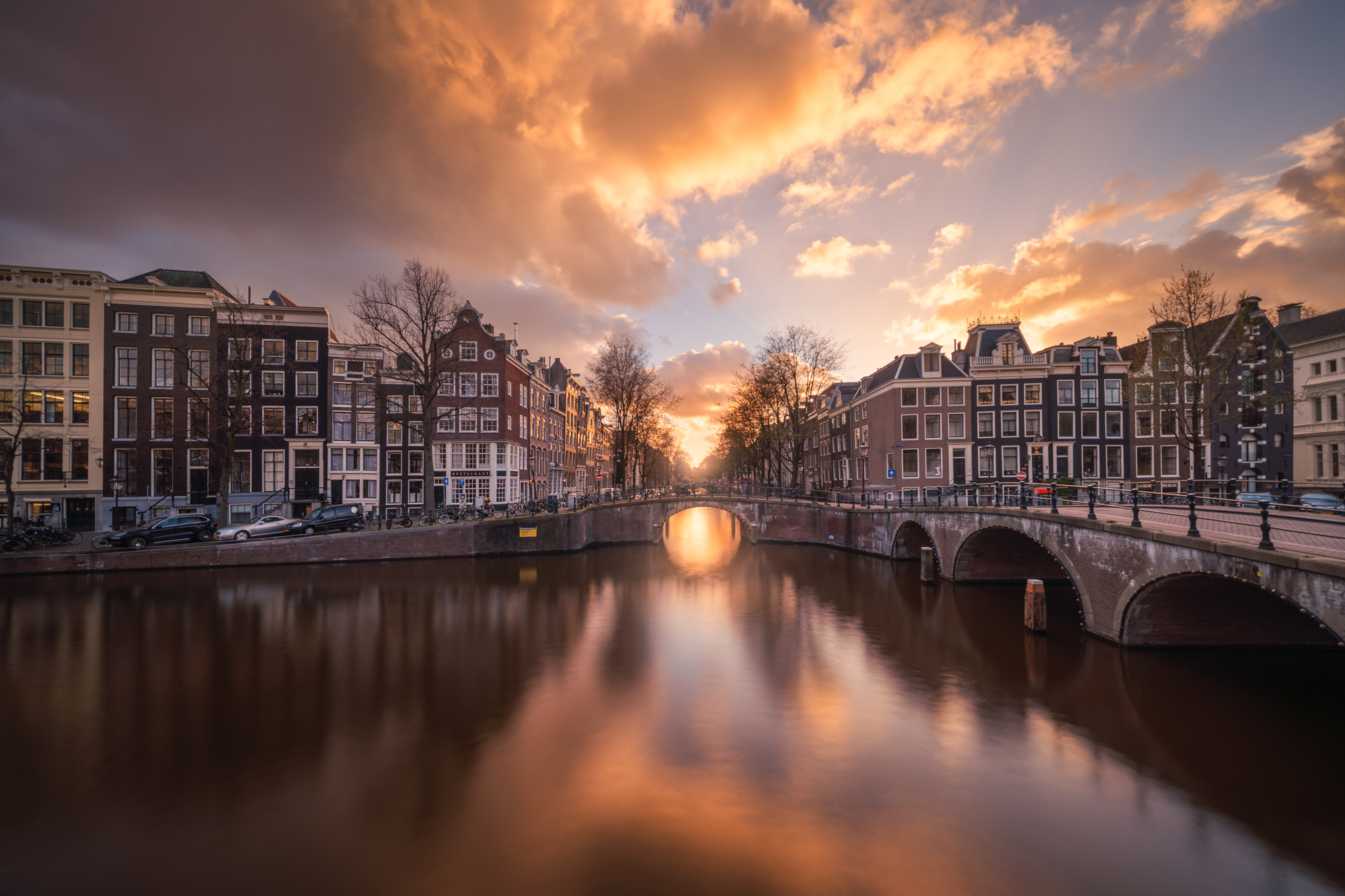 Exposure Blending
Different ways of exposure blending through Lightroom and Photoshop to get the most Dynamic range out of your images.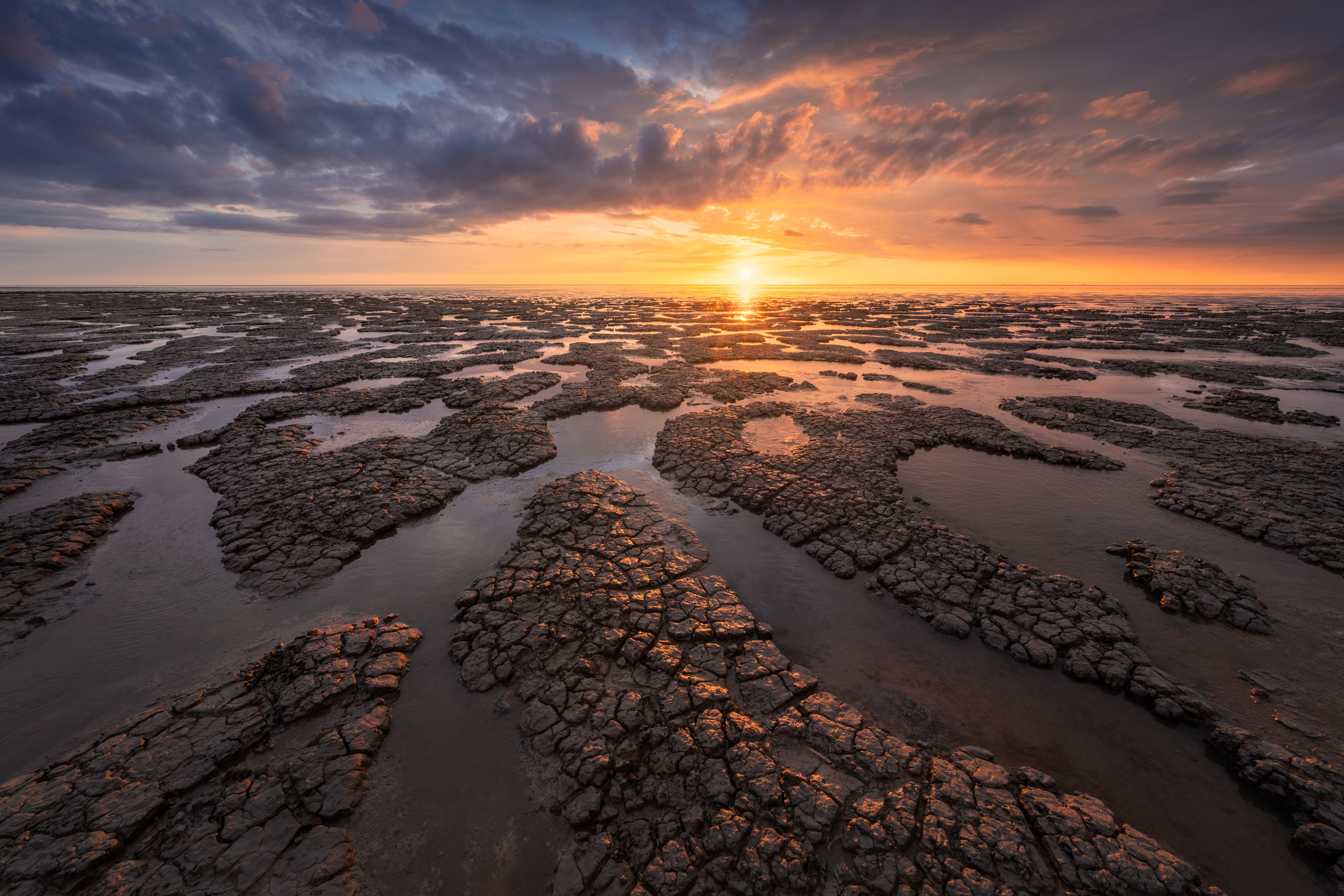 Add Depth To Your Images
By using basic and advanced dodging and burning and color painting techniques through luminosity masks I explain how to add depth and life to your images.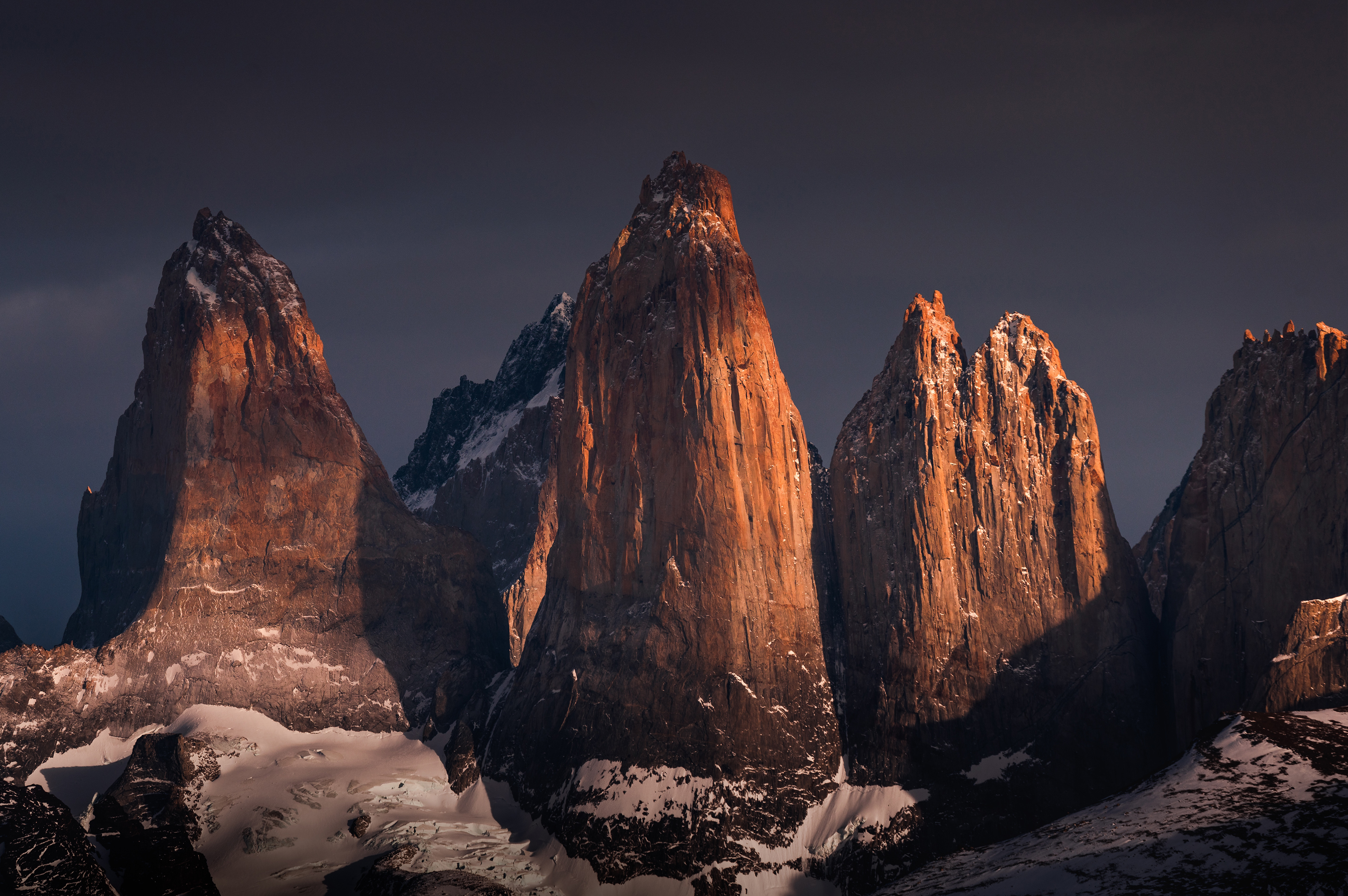 Advanced Techniques
Focus stacking, noise stacking, panoramas, brushing, and much more techniques are taught in depth to learn new techniques on how to create images in the field, and how to process them afterwards.
Get The Most Out Of Your RAW Files
This course is all about getting the most out of your RAW files through various postprocessing techniques. If you're interested to learn basic and advanced postprocessing techniques to get your images to the next level, then this course is for you.
I have no secrets. Everyone has their own vision and the way they see things. Even if I teach you all of my techniques, you'll still not create the same images, simply because every person is different.
To me, a photo serves as a memory. And sometimes I romanticise that moment by adding touches of beauty, playing with colour and enhancing light. However, the moment stays intact. I don't replace skies, add milky ways, or any different elements. Simply because I want to portray the moment and the story. By changing the moment completely in postprocessing, the real moment or story, is gone.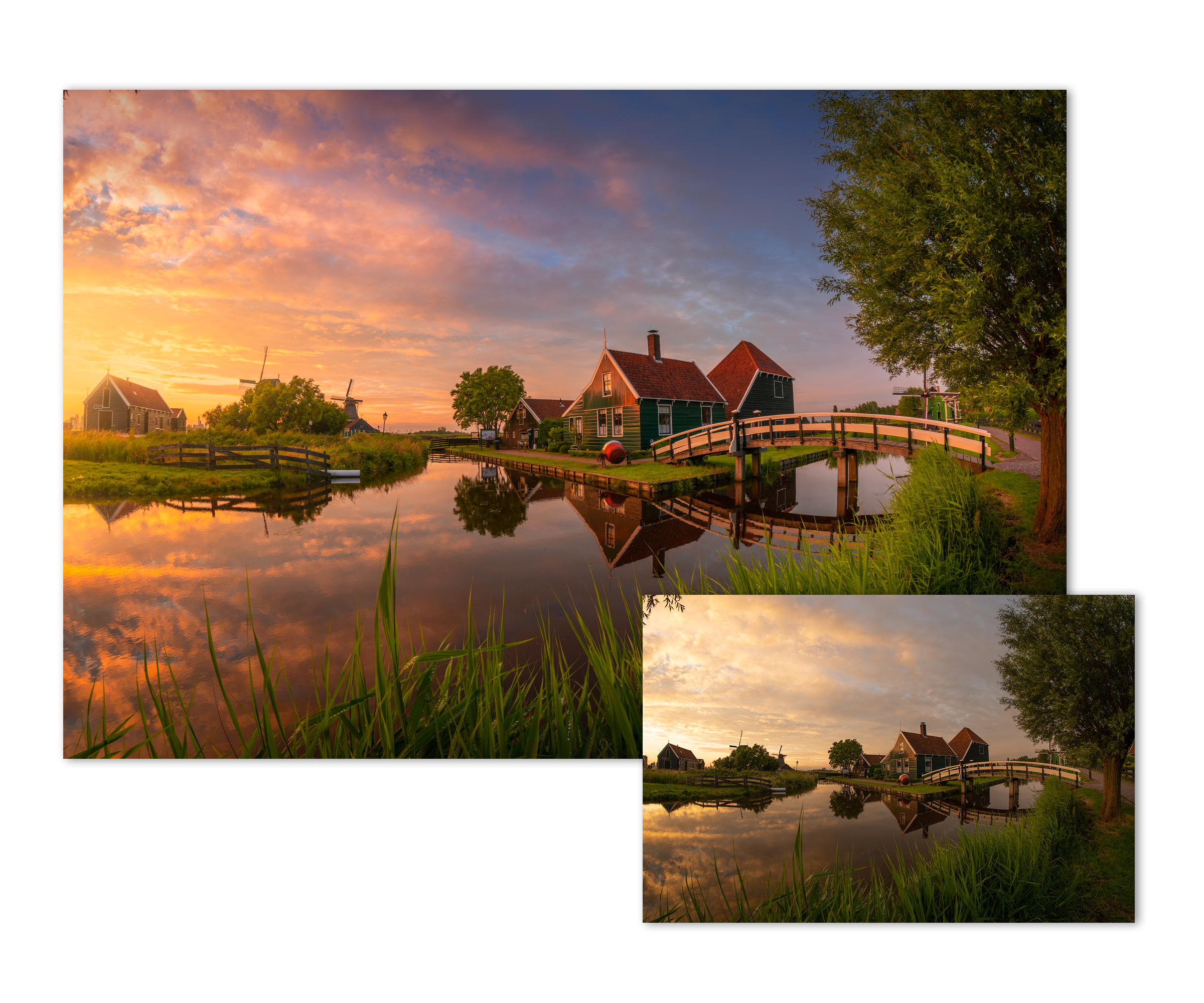 Frequently Asked Questions


What level of experience is required for joining this course?
Basic knowledge of Lightroom or similar software is recommended. This course does not go into importing photos and keywording etc. While beginners are welcome, you do require some basic knowledge of software in general, copying files, handling files etc.
What software do I require to join this course?
You need the Adobe Photography plan (about 10$ per month) which includes both Photoshop and Lightroom Classic. It's possible to join with other versions, but you might miss functions. Other than that, for the Luminar part of this course you need Luminar (you can join with the trial version).
Does it matter if I work on a Mac or PC?
I personally work with Macs so this course was recorded on a Mac. But you will have no issues with joining with a PC. The shortcuts are just slightly different (alt = option etc).
Does this course have subtitles?
Yes! We have subtitles in Dutch, German, French, Italian, Spanish, Chinese, Japanese and even Arabic. Subtitles are generated with AI though, so they're not perfect.
Will this course be outdated in a while?
While software may be outdated, all the techniques used in this course will be timeless. I've been using them for years already. New software might make certain things easier. When big updates happen, I might add videos in the future.
Do I need an Action Panel in Photoshop for Luminosity Masks?
Having an action panel to quickly create masks is recommended. It doesn't really matter which one you use, but I use the TKAction Panel (you can download it for free). In this course you'll also learn how to make these masks manually.
What quality are the videos?
It totally depends on the speed of your connection. You can select anything from 220p to full HD to even 4k! And because I am working from a 4K screen, some things might be a bit small sometimes. It's recommended to watch this course on a computer at full screen.
Can I watch these courses while offline?
Courses are currently not downloadable. There are various reasons for this but the main reason is that the files are huge because all the content is available in 4k video. Please send me an email to [email protected] if you need any lecture for online use anyway.
Can I get a refund if I don't like the course?
While I really hope everyone enjoys this course, if you're not satisfied you can request a refund within 14 days.
How do I contact you directly?
Please send an email to [email protected]
From Start to Finish
Multiple examples of images included in which I process an image completely from start to finish so you can follow along and see all the tips and tricks I am using to edit my images.
Processing an image is all about vision. Transferring that special moment into a photograph is what photography is about. Everyone looks different at nature, colours and the way we see certain things.
By seeing how I look at photos, imperfections and how I use all my different techniques to edit an image from start to finish, I am sure you will learn and get inspired!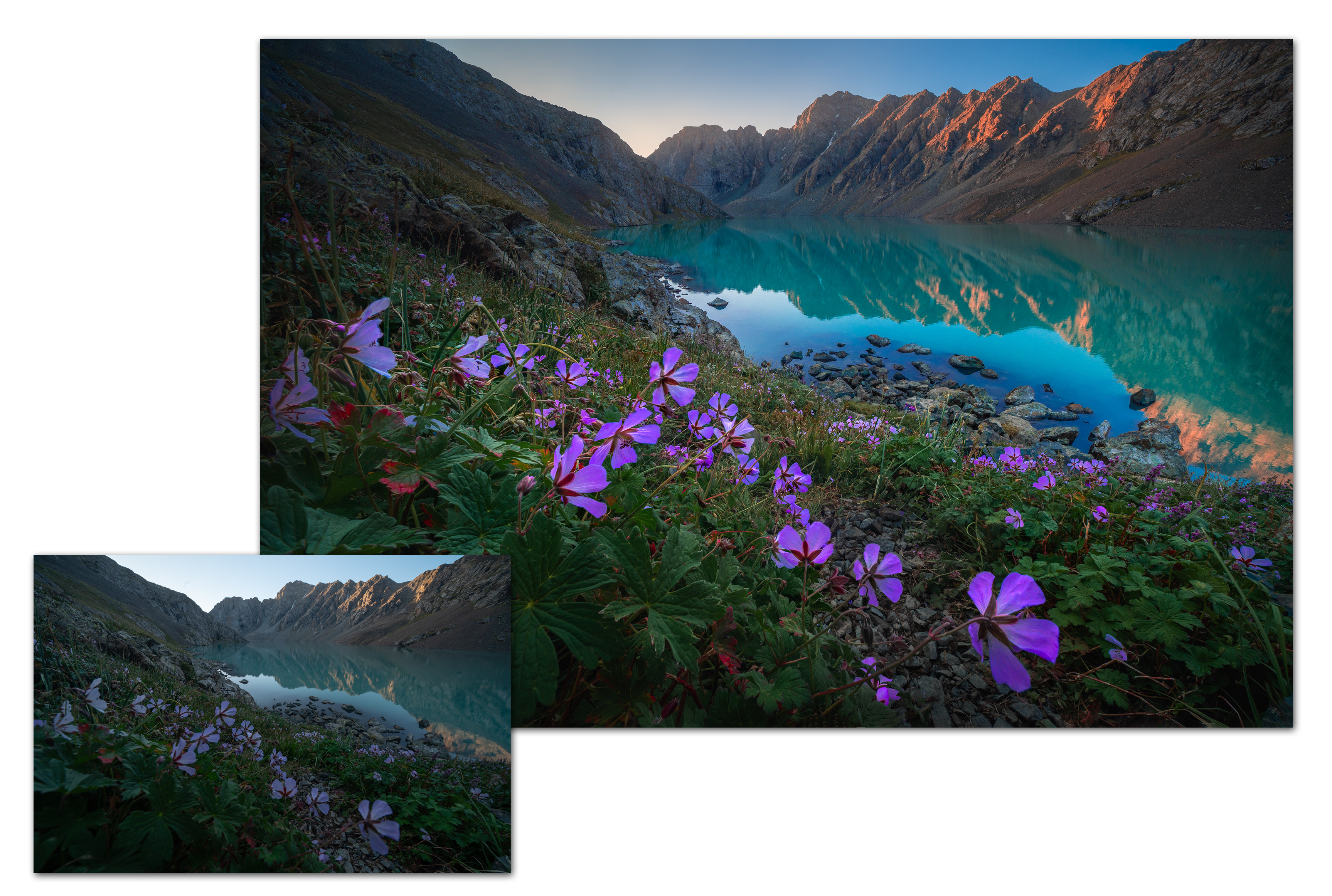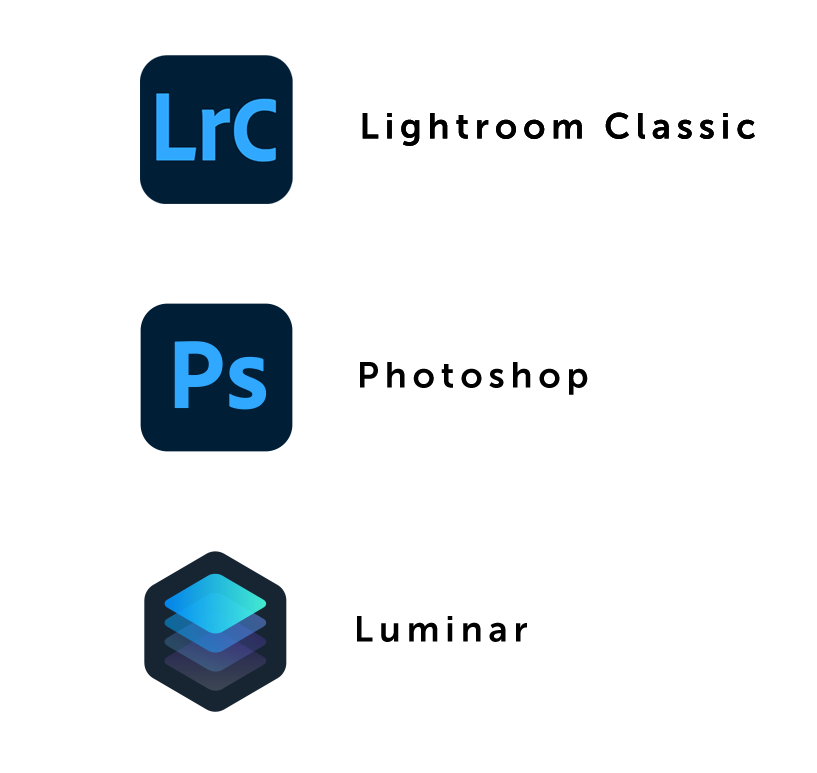 Needed Software:
Adobe Creative Cloud Photography Plan
To join this course you need the Adobe Creative Cloud Photography plan. We'll mainly be using Photoshop and Lightroom Classic during this course. This costs about 10$ per month depending on where you're from.
Optional: There are also some Luminar lectures included in this course. Luminar is very powerful software that you can use to edit your images very quick with good results. There are some situations where Luminar is great in particular. To join these Lectures you need Luminar. You can download a free trial version to try it out!
USE CODE 10OFF for 10% off - LIMITED AVAILABILITY

Check your inbox to confirm your subscription